Candy Need: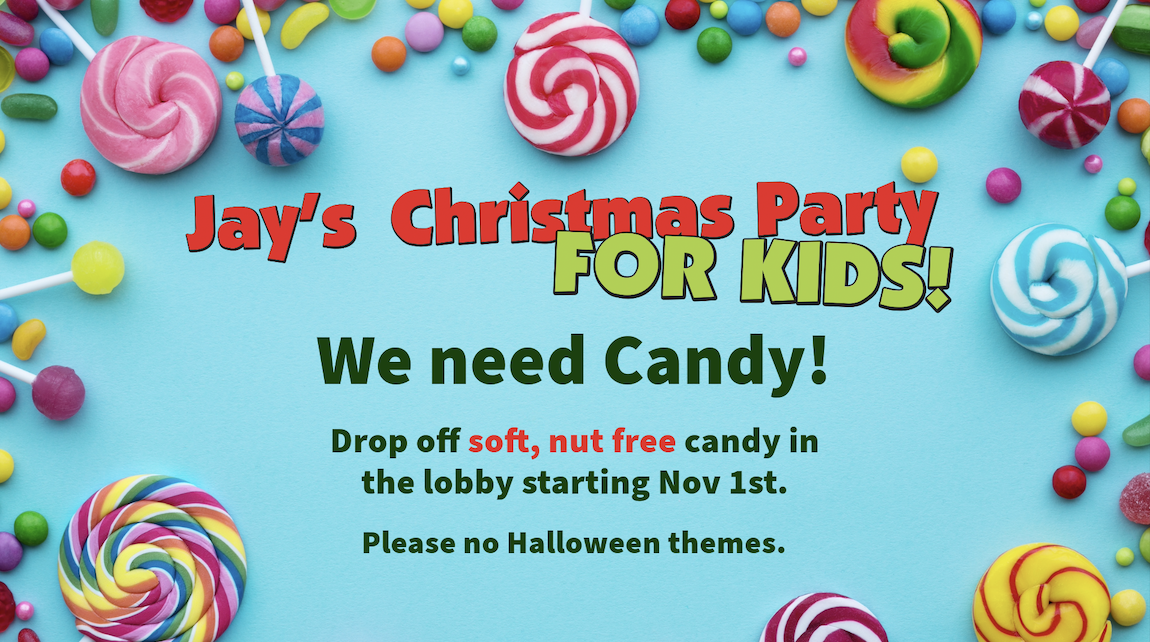 Candy Donations Needed! Candy is Used in the Gift Boxes and for Prizes During the Event!
Please Bring Candy to the Candy Drop Box in Lobby at Vibrant Church!
Please Bring Wrapped Candy, Must Be Nut Free, No Hard Candy, & No Halloween Themed Candy!
Thank You!
Save The Dates:
NOW: Jay's Christmas Party Volunteer Sign-ups are in the Sanctuary Wings.
Contact: Robin Danaher (802) 355-2073 Robin@Vibrant.ch
Sunday, Nov 26, 2023 – After service: Tear down, stack chairs, move tables, move gift boxes and props upstairs.
Friday, Dec 1, 2023 – Jay's Starry Night Christmas Party
Saturday December 2, 2023 – Jay's Christmas Party
Session 1 9:30 – 12:00
Break & Reset For Volunteers 12:00-1:00
Session 2 1:00-3:00
Please note: Start times will be staggered for crowd control. Also, the approximate length of the Party is 1 to 1.5 hours long.
Volunteers Please Arrive 30-45 min before the scheduled party start time!
Park off-site next door at Thompson's Golf Carts next door, the far parking lot and/or after 6:15p Marko's Chiropractic next door. Also, the far back of Vibrant parking lot. Please use the Office or the entrance to the right of the backdoor entrance marked Volunteers Only. Volunteers should enter/exit sanctuary thru back entrance stairwell or office entrance. Please: No party age children (Under age 10yr.) who are not volunteers in the sanctuary before the event starts. Front doors are closed/back door not open until the party start time Volunteers should not enter Upstairs rooms until 15-20 min before the event opens. Children under age 10 are not to be in Main Auditorium until the start of event. Please let your team leader know when you need a break or water during event. Face paint or make up will be available before the event for elves and Costume Characters downstairs in the preschool 3-5year old's room. Volunteers children are only able to attend 1 session. Lunch will be provided for volunteers staying all day or volunteering through lunch. Water & snacks will be available in our Volunteer Room downstairs until 2:00pm.

ATTIRE/DRESS INFO:
Please dress in festive attire (red, green, white, black). We will have plenty of fun accessories in Room 127 for you to use!
What's Happening at 2023 Jay's Christmas Party for Kids & Starry Night:
Friday: 12/1 6:30pm-8:00pm (82 Kids Registered for Starry Night Party!)
Saturday: 12/2: 9:30am-12pm, RESET Break 12:00pm-1:00pm, 1:00pm-3:00pm
The Message ~ Christmas Skit: Have You Seen Christmas? (Prize Drawings after each performance!)
Neon Puppet Dancers – Christian Music Caroling
Games: Basketball, Crazy Ball, Snowball Toss, Piggy Race, & Spin the Wheel
New Backdrops for the Wings
Gifts: Universal gift box for everyone. Different boxes for more than one family member
Costume Characters will interchange the costumes for different scenes (see schedule in costume room) every 20 mins.
Sat. Only: The Big Blue Trunk Train outside FREE Train rides
Fri/Sat. Before event Face Paint Make up for Characters/ Elves
Sat. 9:30-3:00 Face Paint for our little guests
Cookie Decorating w/ Characters
Chill Zone and Letters to Santa & Coloring station
Balloon Twisting in the Lobby
Please be sure to check where you are assigned either by email, phone, or after service on Sunday 11/26, to ensure less confusion and questions on the day of the event. We are looking forward to see what God is going to do as we gather together to serve & bless our community.

Thank you Vibrant Family! Thank YOU & Have Fun!
Robin Danaher
Event Director
802-355-2073 or Robin@Vibrant.ch
Fun and Activities:
Christmas Lights & Decorations
Costume Characters
Games
Crafts
Letter to Santa
Puppets
Santa & Mrs. Claus w/a free gift for children under age 10
Cookies Decorating with Characters
Balloon Twisting
Christmas Play for Kids – "Where is Christmas?"
Big Blue Trunk Train
Invite your neighbors and family members and register today space is limited!
Areas we need help:
Decorating
Set Up/ Tear Down Team Help
Costume Characters, Elf Volunteers
Games
Actors for the Christmas Play
Cookies/ Crafts Assistances
Puppeteers
Santa Line Hosts
Candy Donations
Plain Sugar Cookie Donations
Ask Robin Danaher how you can help! (802) 355-2073 or danaher5251@aol.com
Why Jay's Christmas:
Jay's Christmas Party For Kids is a totally FREE event for kids to enjoy in Jeanette Lefebvre's honor. Jeanette, also known as "Jay" was a housekeeper/ child caregiver to the Pomerleau family of ten children for over 40 years. When Jay passed away on November 16, 2006, Mr. Pomerleau wanted to honor her memory and her love for children and Christmas. Jay's daughters and Pomerleau children created Jay's Christmas Party For Kids and together with Vibrant Church celebrate Jay and Celebrate Christmas the first weekend in December.
~ Thank you Pomerleau Foundation and Vibrant Church for Sponsoring this Wonderful Event!
A Look At The Past:
Thank you to the Pomerleau Foundation for your generous contribution to Jay's Christmas Party for Kids!
If you would like to invest in this event, please feel free to donate >> HERE <<